Latest North Portland Homes For Sale
Search North Portland Homes By Neighborhood
Search North Portland Real Estate on our Interactive Map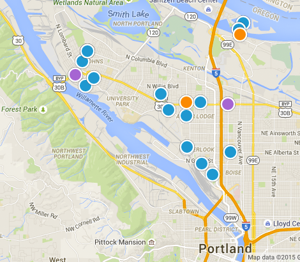 North Portland residents enjoy easy access to lots of outdoor recreation. A peninsula formed by the meeting of the Willamette and Columbia rivers means lots of opportunity for boating and fishing, along with the nearby Smith and Bybee Lakes Wetlands area. North Portland is also home to a small private school, the University of Portland.
Neighborhoods are widely diverse in this area from the condos and houseboats of Hayden Island to bungalows, craftsman, and four square homes in Kenton and University Park. North Portland shows the effect of imaginative landscaping and attention-to-detail restorations. Overlooked neighborhoods often provide rare and undervalued assets for prospective home buyers.
More centrally located, Peninsula Park is a family-oriented neighborhood in North Portland with basketball and tennis courts, baseball and soccer fields, and an outdoor swimming pool. The Peninsula Park Rose Garden is one of the oldest in the city. Closer into the city, the Matt Dishman Community Center at 77 N.E. Knott features a heated indoor swimming pool.
Neighborhood Information:
City of Portland Official Website
Portland Area Chamber of Commerce
Portland Public School District